Bathroom Remodeling
Locally Serving Birmingham, Pinson, Clay, and Centerpoint, Alabama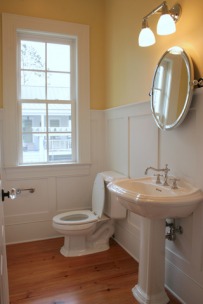 Spaciously Remodeled Bathroom
Bathrooms are the most often remodeled rooms in the home. Bathrooms can easily become cramped and crowded. We at Better Built Craftsman are devoted to you and your project. Bathrooms are usually a confined space, limited by size and function. But we can help you to utilize the space available in your bathroom with our knowledge of options and design creativity. More cabinet space, new counter tops and vanities, lighting and mirror effects, shower stalls and claw foot bathtubs are all possibilities. We can create ceramic tile patterns & designs. We build custom cabinets and shelving.
Let us help you transform your current bathroom into one that has a look and feel that you desire. A bathroom that suites the needs of your household and has both design appeal and function. Better Built Craftsman is a remodeling contractor with the ability to create custom shower pans, install glass shower doors and block windows. From free standing claw foot tubs to drop-in Whirlpool Jacuzzi tubs, we're here. Mirrors and medicine cabinets, grab bars and handicap accessible showers. New vanities and pedestal sinks. We can change out that closet style shower enclosure to create a more open space.
Bathrooms are our specialty. Pebble shower floors, built in bench's and shower seats. Soap and shampoo dishes. We can install sliding and hinged glass shower doors. Talk to us about underfloor heating and rain head fixtures. We'll even help you decide on the right vent fan and best lighting fixtures for your needs.
Remodeling a bathroom dose not have to be a burden. Put our experience to work for you. Everything from relocating toilets, plumbing and drain lines to installing wonderful ceramic tile and stone designs. Call us, see what we can do, you'll be glade you did.
---
Birmingham Bathroom Remodeling Services Offered

Custom Shower Pans
Ceramic Tile & Stone
Vanities, Sinks, & Cabinets
Shower & Bathtub Combinations
Grab Bars & Shower Seats
Sliding Glass Doors
Vents & Under Floor Heating
Pedestal Sinks & Medicine Cabinets
Lighting
Serving Birmingham, Alabama
Pinson, Clay, and Centerpoint
---
(205) 441-2529