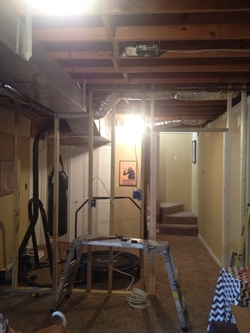 This project was a great addition for increased living space. Half-finished and suited only for storage or an open game room adjacent to the existing master bedroom and bath, this lower-level basement dwelling lacked privacy and comfort. The area needed definition, functionality and flow. A finished mudroom is present when the basement is entered from the ground-level sliding glass door, leading through another doorway which enters the basement living arrangement, our focus mainly being this large empty half. Our goal was to create a room that provided living space, privacy, storage, and incorporated a functional kitchenette design, completed on time and within budget.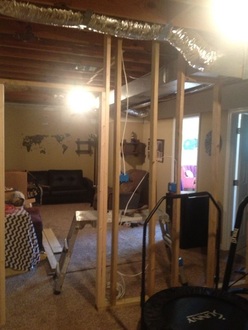 A drop-in tile ceiling existed, it was old and discolored. The white tiles had collected dust and must have harbored some undesirable critters. The tiles were not to be replaced, instead removed completely. Leaving only the exposed flooring joists (as a ceiling), plumbing pipes and electrical wiring. To give the space a more upscale look on budget, we painted the ceiling a flat black, air ducts and all.



The 5 x 8 bath was equipped with 2 entry doors, the rather large master bedroom accompanying the one, and the other, leading to the open living area was walled up in order to create more wall space for the kitchenette area. This allowed us to divide the space appropriately when installing our new wall and door way, granting ample area for living and kitchen space on one side and storage on the other. Building the wall across the width created an apartment-like space with its own private entrance.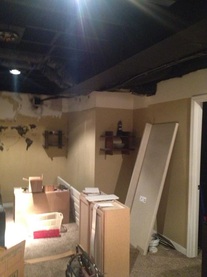 With the framing completed, we installed the plumbing and electrical mechanics. New can lighting was put in the living area as well as a new light over the sink. Sheetrock, cabinets, counter top and sink finished. A small refrigerator was installed under the counter, along with some additional shelving above the faucet. The cabinets were stained black so as to retain the wood's natural grain look and create a harmonious color match between the black ceiling and the cabinetry.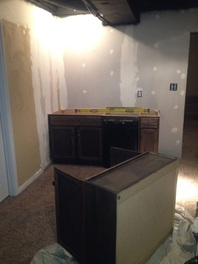 After installing the trim, a complete downstairs painting was in order. A light Homestead Resort Cream color was used on the walls throughout and Swiss Coffee for the trim. With the black ceiling and stained black cabinets the area has a modern look. Overall we achieved our goal. The home owners got a great looking remodel with privacy, transition, and a functioning kitchen all at an affordable price.