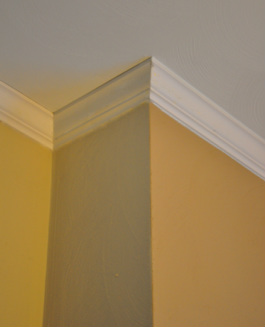 Good crown moulding installation.
Let's face it, in today's economic climate we're all looking for the best quality goods and services for the fairest price. Any savvy consumer knows that smart money shops around and selects the goods or services that offer the most appeal.

Just as cheap doesn't necessarily equate to high quality, affordable doesn't necessarily equal cheap. This is where having a communicative handyman becomes important.

As a handyman, I am often asked if I can do X project for Y dollars. Let's use a simple analogy of putting crown moulding up in a room, where the question becomes, "can you install beautiful crown moulding in my room for less than $250.00 dollars?"

A good handyman will tell you the answer is both yes and no and then go on to explain the actual costs of the project. Transparency in business is a beautiful thing.

So, let's go to our imaginary room and take a look at what a handyman will have to face when installing some crown moulding for you.

In our hypothetical room, the height of the ceiling is the standard 8' and it has four walls measuring 9' x 12' which gives us an area of 108 linear feet of crown moulding to install.

The cost of one contractor's pack of crown moulding at Lowe's is $74.88 and covers 96' feet, so you'll need to add at least one more 12' stick to cover our theoretical 108' foot wall span. In a perfect world, with zero errors, our cost for the moulding material is $92.26.

Then we need caulking, about two tubes at $4.00 a piece, 2/10ths of a box of finishing nails which is about $2.00 in materials. Adding this up, our cost for the project so far is at $103.26.

Now let's think about the cost of labor. Labor includes the tools a handyman needs to successfully complete his project, in this case we have to factor in the costs of transportation, fuel, ladder, nail gun, compressor and compound miter saw in addition to a two man crew. Crown moulding can be installed by one person but it is exceedingly difficult to do alone, so a two person crew is optimal.

A quick search on Google yields installation prices ranging between $6.00 a foot to a whopping $12.00 per foot. That's a huge difference! Let's use the lowest of the low number here and say that installation includes the cost of the material, since our material costs are coming in just below $1.00 a foot. At $6.00 a foot installed, that comes out to a rather pricey $648.00. Well above our theoretical $250.00.

But.... if we price out the materials (less than 1 dollar per foot, remember) and price the labor out at $1.75 per foot (assuming an 8' ceiling) plus $10.00 per interior corner (4) our costs become much more understandable and the prices more affordable. Our theoretical 9' x 12' foot room will cost us $229.00 in labor for a grand total of $332.26.

We didn't come in below $250.00 dollars for the bid, but the homeowner gets a real price and a real breakdown of the costs and can move forward with the decision whether to install crown moulding or not based on an educated position.

No matter what the proposed job is, whether it's painting a bedroom or remodeling a bathroom, finishing a basement or building an enclosed porch this breakdown is the sort of information homeowners should demand from their handymen.

One last word on crown moulding jobs in particular. Don't let any old handyman install your crown moulding. Crown moulding is a detail oriented job where the right tools and knowledge are necessary for a successful installation, or you'll end up with gaps, poorly cut corners and misinstalled mouding.