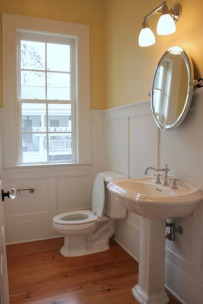 A bathroom remodeling project doesn't have to cost a small fortune. There are simple steps that can be taken to give your bathroom a completely new look and feel. Home owners often wish to give their bathroom an update, but are usually put off by overpriced contractors who vastly up sale materials, charge outrageous labor costs, and rarely show up on time, or in some cases, at all.
Unless you are completely remodeling the mechanics of your bathroom, such as relocating toilets, bathtubs and showers, your project should be fairly simple for an experienced contractor or handyman. Large contracting companies will often times want to completely tear out your bathroom and start over so as to make more profit. However, that is not always necessary. In most cases things such as new tile, fresh paint and updated fixtures may be all that you require. In today's housing market, $10,000 bathroom remodels can be a misuse of spent money. Especially if you just want to give your bathroom a makeover.
Most often our bathroom remodels here in Birmingham, Al consist of bathtub refinishing, installing ceramic tile, new toilets, updating sinks and vanities, painting, creating and installing new lighting sources. Typically our bathroom remodels and updates range from $2,000 to $5,000 depending on the nature and scope of work to be performed. We work with you to determine your needs and desires. We will help you to decide what options are available to suit your individual bathroom needs.
We design bathrooms with open style plans, excellent lighting arrangements and create wonderful ceramic tile designs. The ability to build more storage space and provide additional cabinetry is a craft of ours. Shower surrounds created with mosaic tiles, rain heads, overhead fans and ventilation systems are our specialty.
Whatever you desire from your bathroom, we are here to help create it for you. Everything from the initial design to the towel hangers on the back of the door, we can help.