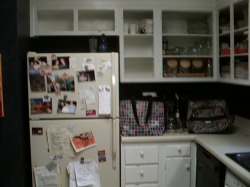 Kitchen Remodel Before
If you are looking to improve the look of your kitchen by purchasing some new furniture or appliances, then you are probably wondering what the latest trends in kitchen remodeling are. The right kitchen remodels can really make your kitchen stand out to your guests, and make any cook happier to be in the kitchen. Let's take a look at some of the hottest trends in kitchen remodeling so that you can make the best decision.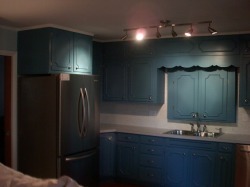 Kitchen Remodel After
One of the hottest trends for kitchen remodels today is stainless steel. Stainless steel is a durable and attractive material that can make your kitchen look unique and modern. Apart from purchasing stainless steel appliances like stoves, ovens, sink faucets, and countertops - you can also opt for a stainless steel trash can or step stool when you are putting together a great look for your kitchen remodels.
Besides the material that you choose, another hot trend in kitchen remodels is hidden appliances. Rather than having a conspicuous dishwasher, refrigerator, or trash can, more and more people are choosing to have these items blend in with the rest of their cabinets. These under-counter appliances can be accessed by opening one of your cupboards, but they are hidden from view when you are not using them. They are definitely one of the top trends in kitchen remodeling.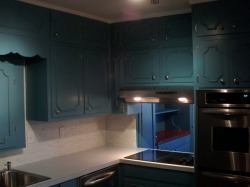 Kitchen Remodel After
There is no right or wrong way to approach your kitchen remodeling projects. The look that you choose will be largely based on your own personal preferences. However, by looking at the latest trends in kitchen remodels, you might be able to get some great ideas.