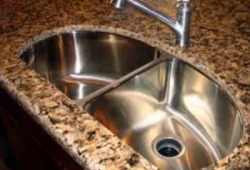 Kitchen Remodel Undermount Sink
Under Mount Sinks – Kitchen Remodeling Trends

Under Mount sinks are all the rage for kitchen remodeling projects, and why not, they certainly look gorgeous in a newly remodeled kitchen. They're flush, sleek and oh-so-undeniably beautiful.

There are a few points to consider when considering adding an under mount sink to your kitchen renovation. These few points are when I want to address today so that anyone who is thinking about remodeling their kitchens and adding an undermount sink to the project knows what they're getting into and also knows exactly how to go about installing these sinks so that they give a lifetime of enjoyment to the homeowner.

Here it is in a nutshell: under mount sinks can have weak mounting points, unless you have a brand new granite or other rock type of counter being installed as a part of your kitchen remodeling project you're probably not going to want to install an under mount sink.

Traditional sinks are clamped at the rim lip with set screws and require a sealing adhesive to help form a strong water tight bond and can be used on any type of countertop.

Under mount sinks are installed using a cradle frame as support for the sink to rest on. Some manufacturers provide mounting clamps that must be pre-drilled and set into the underside of the surface countertop. A silicone bead should be applied to prevent water leakage and not as a primary means of support.

When shopping for the sink you desire, keep in mind the mounting mechanism. Most only come with an adhesive silicone. We recommend that you find one that has a cradle system as means of main support. Contractors who have only used silicone to secure the sink under the counter have had to come back and fix a separation within 6 months.
Just remember, if you plan on selecting an under mount sink as a part of your next kitchen remodeling project, be sure that your contractor takes the time to install it correctly so that you can enjoy it hassle free for many years to come.

This is your new blog post. Click here and start typing, or drag in elements from the top bar.