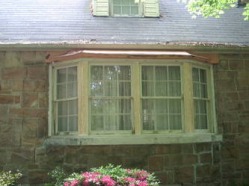 Before Window Repair
When the time to do something about those drafty windows comes, there are a few different options to consider.

Most older homes have windows that have been painted shut are drafty and look terrible from the outside.

But what can you do about them?
Should you replace them with new windows and cut back on energy costs?
Or have them restored to preserve the home's intended architecture?
The choice is simple if you're working with a limited budget.

We'll want to restore the original windows.

We can accomplish a number of different tasks with window restoration. With enough effort we can assure that old windows open easily. Want windows that open?

Or fully re-glazed windows that help cut down on drafts?

Or just windows that look freshly restored and give your whole house a facelift?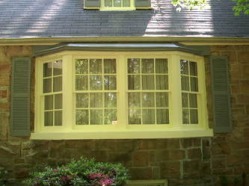 After Window Repair & Reglazed
Older homes with drafty hardwood floors & tall ceilings are best to have the windows restored.

It is by far a more economical value.

Although, new windows will increase the homes overall all value, they will not really be enough to recoup the initial cost.

However, it may be more attractive to potential buyers, and help the home fair better on the open market.

However, the same logic can be applied to restoration.
Restoring the homes' original features can be a long process, but well worth the effort if you are seeking an economical home improvement.

Restoration is definitely an option when budget plays a key factor.

Over a whole home it could save thousands, and still add value and prospective buyer appeal.
Installing new windows in an older home is a fine way to cut back on drafts and keep the warm air in during the cold winters, but does the cost really save you any money. Sure the price will turn to profit after 30 years or so, provided the windows hold up that long.

And replacements don't really help with rotten or damaged framing and window sills that really need to be repaired before the inserts are installed, adding costs.

Replacement windows work best for newer homes that already have insulation in the walls.

They add value to the home and further help energy efficiency.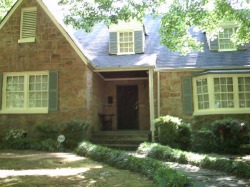 After Window Repair
Replacement insert windows have great features

but can be costly to install throughout the whole home.

Most replacement windows are already energy efficient and contractors will try to upsell you to windows with EE ratings by using the old 'tax credit' line on you because they ultimately profit from the material markups.
But if you really want to go with replacements, you can save a lot of money by buying regular window inserts instead of windows with high EE ratings.

Replacement windows can cost between $100 to $500 each, plus the installation costs -- which typically run in the neighborhood of between

$100 to $250 dollars.
No matter which route you eventually decide to take with restored or replaced windows, you'll have a fresh new look to compliment your home, inside and out.