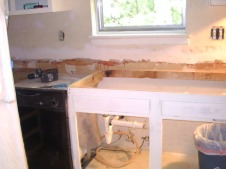 One of the major considerations for kitchen remodeling projects is whether to replace or to refinish kitchen cabinets. Wood cabinets and other fixtures can make a kitchen look dated, drab and dark. Today's look favors clean lines, minimalist designs and bright colors.
Many homeowners decide to refinish their cabinets rather than replacing them, as the cost of replacement is prohibitive and cuts into the overall remodeling budget considerably.
There's a right way and a wrong way to approach refinishing your kitchen cabinets. Unfortunately, a lot of homeowners let hack remodelers refinish their cabinets the wrong way and end up regretting it afterwards. But the good news is that with a little extra attention to detail and a little more good old fashioned elbow grease, refinished kitchen cabinets can look fantastic and have a fresh new finish that endures through the years.
Some of the biggest cabinet refinishing mistakes we encounter in the field are a result of poor preparation and improper paint finish, so let's address those topics first so when you decide to refinish your kitchen cabinets, you know exactly what to expect and how to prepare your cabinets so that your refinishing efforts really pay off.
·
Remove all of the hardware – this includes hinges which means you're going to be removing the cabinet doors. Discretely number the doors using chalk on the back of the doors so you know where they go! Put hardware and screws aside where you're going to be able to find them again! – We use small bags to sort and label hardware.
·
Wipe down all of the surfaces with a mild ammonia or vinegar solution. Paint doesn't stick well to grease!
·
Lightly sand all surfaces that will be painted. It is very important that you are careful during this step. Automatic belt sanders can be too aggressive for this task. Cabinet veneers are exceedingly thin. It's best to sand the surfaces by hand, especially the veneer faces. Doing the sanding by hand will also allow you to address crevasses, trim and moulding that might be on the cabinet and help the paint stick more uniformly to the cabinets.
·
Wipe down all sanded surfaces with a damp cloth to make sure you've gotten all the dust removed from the surfaces that you'll be painting.
Now that you've got your cabinets prepped, it's time to begin priming and painting. Let's address the type of paint you'll be using.
High gloss enamel is easy to wipe down but it isn't always the best finish for a couple of important reasons that we will consider below.
High gloss highlights flaws. Did you over-sand a spot? Was there a gouge that you couldn't sand out? If you paint in high gloss, those flaws will be highlighted in high gloss forever after. Plus, it's unattractively shiny, runs very easily -- which can leave horrible looking drips in your finish -- and probably isn't the look you really want in your remodeled kitchen.
Choose satin or semi-gloss instead. Satin is soft and hides flaws wonderfully. Both finishes are more forgiving to work with in terms of streaks and runs and semi-gloss wipes off well. – This probably goes without saying but avoid using flat paint on any surface in your kitchen.
Use a primer base. Primer helps the paint go on smoothly and stick to the surface. This step is very important to assure both the beauty and the longevity of your kitchen renovation efforts.
Apply a thin coat of primer to the surfaces you will be painting, choose a primer color that matches, or nearly matches your paint color selection. Let primer dry according to manufacturer's instructions. Because it gets humid here in Birmingham, you can expect drying times to vary according to weather conditions. Generally primer dries very quickly, leaving the surfaces to dry for 6 hours should be more than enough time to assure the primer coat is fully dry.
Now that we've got the prep work done and the paint color and finish selected and all of the surfaces primed, we have one more consideration before we begin: paintbrushes.
I like the Purdy 2" Yes, it's expensive. All good paintbrushes are. A superior brush makes all the difference in the final finish and you should not short your painting project by using a cheap brush.
Now you're ready to start painting. Paint with smooth, even strokes. Don't let too much paint accumulate on the brush or you'll suffer from more drips than necessary. Keep a damp rag nearby to clean up minor mistakes as they happen.
Let the first coat cure overnight at the very least, although waiting a full 24 hours is preferred. The paint curing process is a very important step. The first coat should be dry and not at all tacky to the touch. The curing process hardens the paint which means your paint will look better and have a more durable finish.
After the kitchen cabinets and surfaces have cured, it's time to apply the final coat. The cabinets might look great already with just one coat but you shouldn't neglect to add the second coat. Again, this is the step that assures the efforts and costs you put into your kitchen remodeling project pay off in the long run. You want your cabinets looking beautiful for years to come.
Curing the second coat takes about 48 hours, the longer you can wait to put your kitchen back together, the better. Don't touch or move the cabinet doors while the paint is drying and don't attempt to rehang the cabinets or replace the hardware until the second coat is fully dry.
When your paint is 100% dry, it's time to rehang the doors and replace the hardware. Now you'll be glad you numbered the doors and organized the hardware! It makes putting your kitchen back together much easier than it would be if you hadn't been so methodical.
Enjoy!
Related articles: Kitchen Remodeling
on a Budget