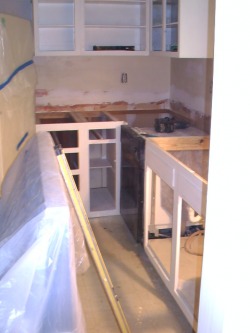 Kitchen Remodel Before
Tons of homeowners in greater Birmingham want their kitchens remodeled but believe that their budgets won't let them afford the type of upgrades that they really want. The good news is that a beautiful new kitchen isn't as costly as you might think. There are a lot of rejuvenating and inexpensive methods you can utilize to get a beautifully remodeled kitchen. The tips below highlight just a few ideas available to remodel your kitchen affordably.
1. Take your time and shop around for a remodeling contractor who offers you a competitive price. A word to the wise: Be wary of unlicensed and uninsured low-budget "handymen" who could end up costing you a lot more money in the long run. Because of the current economy, prices among professionals are extremely competitive and it's a perfect time to use your consumer power to negotiate on labor costs. Because of this, there is no reason to hire someone with the wrong set of tools and limited know-how when you can get a fully insured professional for a similar price…. Not only that, but because home improvement material sales are flat, you can save a lot of money on material prices right now.

2. Look for a contractor who can explain details about the remodeling process and who asks you questions about what you want. A professional who doesn't have any input to give you probably isn't much of a professional and shouldn't be trusted to perform quality work.

3. Ask to see a copy of your contractor/handyman's license and/or insurance certification. A professional contractor or handyman won't mind producing his credentials for you, and that way you know that your home is protected from theft, damage and negligent practices because you know who he is and where he can be found.

4. Prioritize what you want to have done and what you need to have done before you begin to meet with your contract bidders. That way, when they come out to do a bid, you can help your contractor understand what you're really going for and he'll be able to give you the most accurate bid.

5. There's no doubt that even small upgrades can revitalize a cramped kitchen. A fresh paint job, some tile, laminate or vinyl flooring and a bright light fixture are all inexpensive ways to revitalize a worn-out looking room.

6. It is important to note that plumbing jobs that don't require a contractor to go "behind the wall," don't require a plumber, so you won't have to pay outrageous plumber's fees for simple tasks like replacing sinks and faucets. But if you're going to upgrade to a gas stove, you're going to want to hire a licensed plumber to install the gas lines.

7. Other great ways to liven up your kitchen includes installing additional lighting, installing pre-built or custom built cabinets, refinishing or repainting existing cabinets, and updating outdated fixtures affordable ways to liven up and reorganize cluttered kitchens.
Remodeled Kitchen
Kitchen remodeling projects vary in price from a few hundred dollars to a few thousand dollars and even up to tens of thousands of dollars for fancy butcher block countertops, custom built cabinets and high line designer fixtures and appliances. But the good news is, is that there are as many different ways to go about having your kitchen remodeled as there are reasons to remodel.

Another great aspect to choosing to do a kitchen remodel is the return on investment (ROI). Nationwide numbers indicate that the average homeowner in the Hoover and metro Birmingham area can expect to recoup about 76% of their costs of remodeling a kitchen. Source: www.remodeling.hw.net/2008/costvsvalue/national.aspx

The number one thing to remember is to get bids from reputable home remodelers and to work with them to develop the best new kitchen you can at a price you can afford.