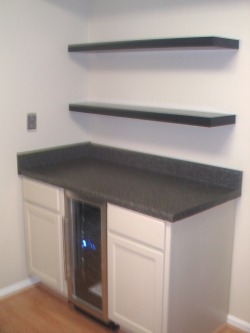 Freshly Painted Cabinets
How to Paint Like A Professional Part 1
Painting is the most cost-effective way to transform any space into something clean, fresh and new. Maybe you've just moved into a new home, and the previous owner had a different idea of tasteful décor than you. Or maybe you're looking to sell your home, and it's time to get rid of that sky-blue bathroom ceiling with the golden stars. Maybe you're bored with those four beige walls in the living room, and look forward to a dramatic accent wall in a deep chocolate hue. Maybe it's time to freshen-up the kid's play area and paint over those grubby handprints on the walls. There are so many reasons you might want to paint the interior walls of your living spaces.
In the last installment, we discussed how to properly prepare your walls, select the paint color and sheen, and some basic tools you will need to paint like a pro. In this installment, let's discuss how best to apply that paint to your walls, in order to lend fresh life to your living spaces.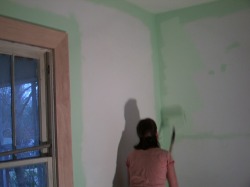 Cut in around trim first
So your walls are free of wallpaper and sanded smooth. You've removed all pictures, shelving, switch plates and outlet covers. Of course, you want to remove all furniture from the room, so you can move your ladder along the walls freely. If the furniture has to remain in the space you'll paint, push everything into the center of the floor, and cover with a drop-cloth. You also want to protect your flooring and any counter areas, if you're in a kitchen. You gather your tools, make sure you have access to running water, and put on a good radio station. Now you're ready to begin the actual painting, which usually starts by applying the primer to the walls or ceilings.

The first thing to do it the 'cut-in'. Because expert painters know that taping off trim around doors and windows causes paint 'bleeds' under the tape, we advise against using any kind of masking tape. This will give you a cleaner cut-in line, save you a few bucks, and accelerate the painting process, because you don't have to spend a few hours painstakingly taping around all walls. Take your angled paintbrush, dip half-way into the paint, run both sides along the edge of your paint can to get rid of excess paint that might drip, and paint along your edge lines with a smooth, stable stroke, applying just the right amount of pressure on the bristles to not bend them, but 'flow on' the paint, so you avoid streaks that will cause you to have to paint everything again. You want one-coat coverage for maximum efficiency.

When all edge lines are cut-in (approx. 2inches deep), you can get out your roller (make sure you chose the right nap thickness for your type of surface), and lightly wet it with water, then blot it dry on a rag or newspaper, and work out any nap that 'fuzzes' off. This way you don't end up with unwanted fuzz spots on your walls. Then apply paint to your roller, and begin painting your walls in a clock-wise direction, starting at the entrance door to the room, if you're right-handed. For south-paws, go counter-clockwise. Be careful your roller doesn't have excess paint that might drip, and watch the spray-back when you roll the paint onto the wall. Apply paint in smooth strokes and go over all areas from different directions, so the paint covers any imperfections from all angles and you can avoid having to apply a second coat. Once you have painted all walls, wait for the paint to dry, and again closely examine your paint job with a critical eye, and find any spots where the paint is too thin and touch them up with fine-feathered brush strokes.

Your paint job will dry to touch within about an hour, depending on humidity and air-flow. After that time, you can re-install switch plates and hang pictures. You can move your furniture back into the room as well, but be careful still, because paint requires approx. 72 hours to properly cure. Maybe you now have that chocolate accent wall, or maybe you're moving on into a new home, and will need to paint again soon. Whatever the case, remember that with a lot of knowledge and practice, you too can paint like a pro.