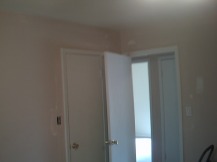 Preparing Walls For Painting
A freshly painted wall is a beautiful thing to behold. It can liven up your living room, lend a feeling of serenity to your bedroom, make a bold statement on an accent wall, or bring fresh energy and to your children's play area. It's versatile, can be customized for your individual taste and lifestyle, and can renew your home's spaces on even the most limited budget.
Many folks hire a professional painter to achieve that flawless look of clean lines and perfect color combinations. An expert can enhance your living spaces by consulting and working with you to determine the right type of paint for each area, and to achieve exactly the look you want.
But what if you want to do the painting yourself? Some people choose not to hire an expert, because they think they can't afford it, or because they don't know any painters, or for various other reasons. However, sometimes they end up with obvious flaws on their walls, or paint spatter all over their wood trim and flooring.
To paint your own home, you need to consider a few specific points. Because you want to have a professional look on your walls, you don't want to just apply any paint, or use the wrong tool for the job.
To begin, you need to properly prep your surfaces. That means taking off all switch plate and outlet covers, removing blinds and curtains as well as all pictures and décor, and any wallpaper. Then spackle patching compound into nail holes, sand over rough patches, caulk around wood trim and crown molding, and apply primer to ensure your paint adheres well and the old color is covered up. Now you're ready to select the actual wall paint.
There are many different types of paint available. Various brands and quality-levels, different sheens and textures, designer paint effects, oil and water-based paints and glazes, and more. Obviously, better quality comes with a bigger price tag, but usually yields better long-term coverage. Currently, your paint store carries five distinct levels of sheen: Flat Matte, Matte, Eggshell, Satin, Semi-Gloss, High Gloss. The sheen of the paint impacts how washable the paint is on your walls, and it determines the amount of light reflected off the wall. The glossier the sheen, the more washable, but the more light reflects, allowing every pockmark and crackly to become more obvious. Of course, the most momentous decision is the actual paint color. You want to be sure your color covers well over the current wall color, enhances the desired atmosphere for the specific space, won't seem bland or too loud to you within a month, and doesn't clash with your furniture.
To paint like a pro, you need the right tools. Start with a few different size brushes, angled and straight, to cut-in around your woodwork and baseboards. Select the proper type of bristles for your type of paint, and clean them frequently, paying close attention to the bristle-edge by the ferule, where paint can get stuck and end up dripping mid-brush stroke. Buy tarps to protect furniture and floors, paint trays and liners, and a roller cover that's right for the texture of your wall or ceiling. Don't worry about buying that roll of masking tape – the pros don't use it. Taping off causes more paint on woodwork and flooring than going slow with a steady brush, because the paint will creep under the tape every time. And by the time you take the tape off, the paint has dried on and isn't easily removed without doing damage to the paint job itself.
Once you decide on your paint and buy your supplies and materials, you're ready to paint! Find some old clothing and shoes, get out the ladder, clear your schedule, ban the family pet and the kids from the area for a few days, and get started.
In our next segment we'll discuss tips and techniques for when you're ready to get paint on the walls.


How to Paint Like A Professional Part 2