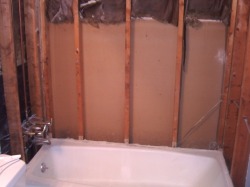 A lot of homeowner's would love to remodel their bathrooms but think that their budgets won't allow them to afford the upgrades that they want. Well, it's just not true. There are a lot of great (and inexpensive) steps you can take to assure you that you get a beautifully remodeled bathroom at a price that doesn't break the bank. The steps below outline some of the ways that you can go about having your bathroom remodeled affordably.


1. Shop around for a good contractor with a competitive price but what out for unlicensed and uninsured handymen who could end up costing you more money than you bargained for. With the recession going on right now, it's as good a time as any to use your purchasing power to negotiate an excellent price for your labor. There's no reason to hire someone with limited tools and limited know-how when you can get a fully insured expert at increasingly competitive prices.

2. Look for a contractor who can explain in detail what his plans for your bathroom are. Anyone who hems and haws a lot probably doesn't know enough about his job to perform top quality work.

3. Ask to see a copy of his license and/or insurance certificate. A true professional doesn't mind showing you his credentials, and that way you know that your home is protected from theft, damage and negligent practices.

4. Visualize what you want done before you consult with your contractors. When they come out to do a bid, be prepared with your list of must haves and want-to-haves so you can help your contractor prioritize your job and thus give you the most accurate bid for your job.

5. It's amazing what even small changes can do to revitalize an out-of-date bathroom. A new paint job, some laminate or tile flooring and a new light fixture is an inexpensive way to brighten up and revitalize a tired old bathroom.

6. Remember that any jobs that don't require behind the wall plumbing, like replacing sinks and faucets, also don't require a plumber. You can save a lot of money by not hiring a plumber at plumber's rates to do jobs that don't really require a plumber.

7. Installing additional lighting, custom built cabinets, new fixtures and additional mirrors are all great ways to brighten up and reorganize cluttered bathrooms.

As you can see, there are as many different ways to go about remodeling a bathroom as there are reasons to remodel. The number one thing to remember is to hire a reputable bathroom remodeler and to work with him to develop the best new bathroom you can at a price you can afford.