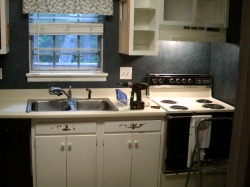 Susan's Kitchen Before
Susan has wonderful decorating taste. When we first entered her kitchen, we were greeted by tasteful artwork on the walls, stylish counter-top appliances, and a baker's rack that displayed her dedication to fine wine. All of this, however, couldn't quite mask the fact that this kitchen had that lived-in look that often comes with a few years of passionate use.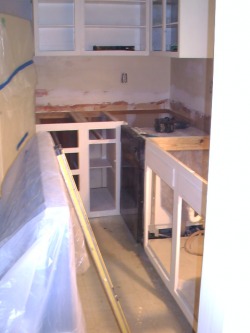 Cabinet & Counter Top Work In Progress
The cabinets, although sturdy and custom-built from solid wood, showed their age. At this point, the once white paint was less than white and chipped in places, so the original dark wood peeked through. The old porcelain knobs and discolored copper hinges were partially covered with paint. The countertop was an outdated off-white, severely scratched and discolored, and the faded, shallow sink and faucet looked no better. Dark wallpaper overpowered the shine of the large rectangular neon ceiling light, and made the space seem smaller than it was. The apartment-grade linoleum sheet flooring had seen better days as well. All of that was why Susan had decided it was time to revitalize the space, and do the whole kitchen over.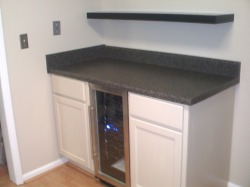 Cabinets & Counter With Built-In Wine Cooler
Susan contacted us for a detailed consultation and a free estimate. When we listened to her, it became clear that Susan wanted an updated, brighter, and more welcoming feel in her kitchen, with additional lighting over a new, deeper sink with new fixtures.
In addition to new walls, floors, countertop, and cabinets, she wanted more cabinet and counter space, and a built-in wine cooler for her collection.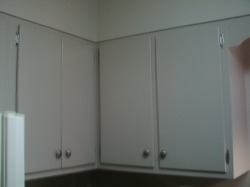 Newly Painted Cabinetry
After some deliberation about her wants and needs, we convinced Susan that the sturdy, custom-measured, solid-wood cabinets could be renewed, and she could limit her budget by avoiding a complete tear-out and replacement cabinets. We also agreed to custom-build some additional storage and counter space, and install the desired wine cooler, along with new lights, sink and fixtures, and quality laminate flooring. We settled on paint color and sheen, advised on new hardware and fixtures, clarified expectations for the end product, and Susan was getting very excited. So, to work we went.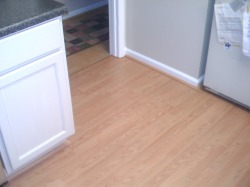 Laminate Flooring
The first thing to accomplish is the prep. We always like to make the mess first, then clean it up and start with a fresh slate. In this case that included wallpaper removal, un-installing the cabinet doors and hardware, and sanding them down. We battled the stubborn wallpaper, washed the walls, filled in the larger imperfections, and sanded them smooth. We sanded the cabinet framework, the doors, and the drawers, and removed the factory-looking ceiling fixture. Next, we coated the ceiling, walls, trim, baseboards, and cabinets with primer. After drying time, we applied two coats of paint, allowing for curing and sanding between applications, for a smooth, long-lasting, quality finish. Then we replaced the old light with an elegant oval fixture, and installed a tear-drop light above the sink.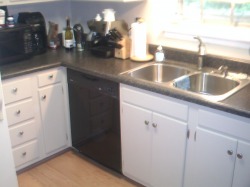 Counter Top & Cabinets After
In the meantime Susan had selected the countertop, new hardware, her new sink and faucet, and the cabinets and wine cooler to be custom installed, so we drove to the store to pick everything up.
Since these new cabinets had to match our overall look, they got the same detailed sanding and finishing treatment as the others.
The next step was installing the new laminate flooring to prepare the space for the cabinet placement.
We also added new 'quarter-round' wood trim along the baseboards. Then we measured, cut, and installed cabinets, countertop, sink, faucet, wine cooler, and finally, two additional shelving units Susan fell in love with.
Our last order of business included re-installation of all hardware and cabinet doors and drawers, removal of plastic sheeting with which we contained the dust and debris, any paint touch-ups, and a thorough cleaning of our work area. Then we enjoyed a long moment where Susan admired her transformed, welcoming and usefully designed kitchen. She asked us to return soon to consult about her dream of repainting her whole home, and we left with a smile for a happy customer, and the pride of a well performed job that's truly appreciated.